Following the formal acquisition of the Turnchapel site from the MoD on the 28th March, Yacht Havens Group have already succeeded in taking positive steps to develop the site for hi-tech marine commercial use. They have decided to name the site Turnchapel Wharf Ltd, which reflects the nature of marine commercial activities to be carried out there.
Yacht Havens today announced the exchange of contracts with their first tenant on site, Marine Services (South West) Ltd (www.marineservicessw.co.uk). Grant Pooley runs his family business providing marine civil engineering services, repairing and maintaining sea structures such as navigation aids and breakwaters, dock walls and dock furniture. The company also offers dredging and survey plant, equipment and crew. They will initially take a lease on one of the large workshops for their specialised repair work and will also use some of the pontoon space for berthing, and additional space for storage on the site.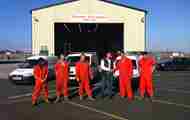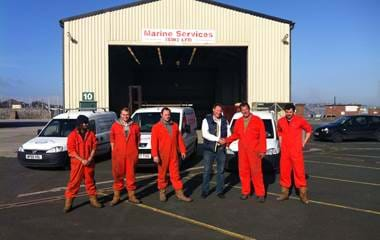 Dylan Kalis, Managing Director of Yacht Havens Group:
'We are in the early stages of negotiations with other potential tenants, and I am delighted with the positive reaction we have received from the local marine based business community.  Turnchapel Wharf has come to the market at just the right time, as we can offer workshops and premises specified to a high technical standard suitable for a number of key marine businesses looking to relocate or expand out to the Plymouth area.'
Image: Marine Services (South West) Ltd with Dylan Kalis, MD of Yacht Havens Group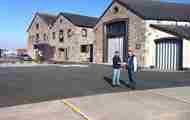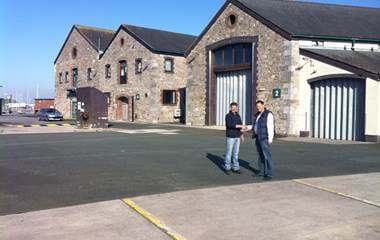 Site Manager Appointment
Yacht Havens have also announced the appointment of Ryan Bonney as Site Manager, responsible for the day to day running of the site, security and facilities management, and looking after the needs of new tenants on site.
The broad range of facilities at Turnchapel Wharf include 180m of pontoon space with deepwater access and a 6m draft; a wide concrete slipway; vehicle workshop units; boat maintenance sheds; secure self storage facilities; car and trailer storage; office premises; start up premises and a refuelling station with marine diesel and petrol.
Please contact Ryan Bonney, Site Manager at Turnchapel Wharf on 07896 794275 or ryan@turnchapelwharf.com