Turnchapel Wharf in Plymouth has become the epicenter for marine autonomy in the UK with pioneering technology being developed, launched, and trailed from the waterfront site in Plymouth.
A former Ministry of Defence site, Turnchapel Wharf is now home to a wide range of commercial marine businesses including a growing number of marine autonomy specialists. With the capacity to safely lift and launch autonomous vessels, modern offices, deepwater berthing, and quick access to Plymouth Sound and beyond, Turnchapel Wharf is an attractive location for marine businesses to test and trial their latest projects.
"We're delighted to be supporting ProMare and the Mayflower Autonomous Ship (MAS). Like many others, we've been closely monitoring the development of the project for many months and we are honoured that Turnchapel Wharf will be playing a supporting role for the mission. Turnchapel Wharf is now the vessel's homeport and we're excited to see this revolutionary project develop over the coming months, as well as providing launching facilities when testing afloat is required," says Ryan Bonney, Manager at Turnchapel Wharf.
Is this the era of autonomous ships?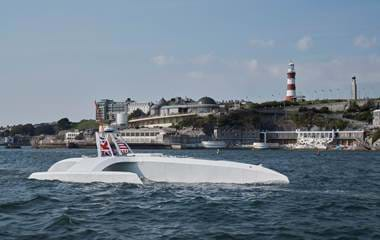 About the Mayflower Autonomous Ship
The MAS is an AI and solar powered marine research vessel which will traverse oceans and collect vital environmental date. Built by ocean research non-profit firm ProMare and IBM, the ship is in the final phase of build before an autonomous, cross-Atlantic venture in early 2020.
Designed to provide a safe, flexible and cost-effective way of gathering data about the ocean, the new-generation Mayflower promises to transform oceanography by working in tandem with scientists to understand critical issues such as global warming, micro-plastic pollution and marine mammal conservation.
The Uncharted: Launch of the Mayflower Autonomous Ship
Coming Soon to an Ocean Near You