Original article: All About Shipping, October 11th 2018, link
Digital transformation is one of the most important challenges facing maritime forces today, and only through experimentation with new and disruptive technologies will the UK military be able to stay ahead and maintain operational advantage. Industry has a key role to play in the development of existing and future technological capabilities in this sector. 
A new centre of excellence in maritime autonomy
Thales is committed to investing in digitally transformative maritime technologies including big data, artificial intelligence, digital security and autonomy. In fact, Thales UK today opens its Maritime Autonomous Systems Trials and Evaluation Centre at Turnchapel Wharf, Plymouth, to build on Thales's leadership in autonomous systems and strengthen the position of UK industry in this emerging market.
Continuing the long history Turnchapel Wharf has with the Royal Navy, Royal Marines and industry, the centre will change the way autonomous capability is developed over the next decade by enabling rapid exploration and exploitation of emergent and disruptive technologies.
The waterfront facility will specifically provide access to trials areas for the development of cutting-edge maritime autonomous systems, and position Thales at the centre of future maritime autonomous capability. The centre is also an integral part of a joint programme between the UK and French government to develop the next generation of autonomous mine hunting systems (maritime mine counter measures, or MMCM).
Thales has invested £1 million in the facility, with a minimum five-year commitment to developing autonomous systems at the site in Plymouth, with 20 new high-skilled jobs created through its opening. "The unique waterfront location at Turnchapel Wharf will provide access to shallow and deep water trials areas for the development of cutting edge maritime solutions" says Victor Chavez, CEO of Thales UK "Our ambition is to help anchor a vibrant ecosystem in Plymouth for the development of advanced autonomous systems and we are already working with a range of academic and industry partners to make this a reality."
Local SMEs, partners and suppliers will take part in initiatives at the facility, while local schools will run STEM activities onsite. The centre will also be available to academia, enabling institutions working in partnership with Thales UK – such as the University of Plymouth, University of Southampton and the National Oceanography Centre – to take advantage of Turnchapel Wharf's world-class facilities.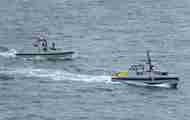 Shaping the future of maritime autonomy
Thales is working hard to unlock the potential of maritime autonomy and create opportunities for everybody in a nascent sector. Key benefits include:
This unique UK centre of excellence will enable highly trained personnel to be on hand to test and deliver autonomous trials.
Rapid access to sea will increase trial time by decreasing transit, and enabling progressive trials to be planned around differing sea conditions, from shallow waters to deep open sea.
Working closely with the Maritime & Coastguard Agency will allow platforms and capabilities to be certified to best practice standards.
Running a programme of de-risking trials and secure by design systems to ensure that cyber vulnerability testing and assurance is a key part of the digital offering.
"Our Armed Forces must remain a step ahead of our adversaries, something we can only do by collaborating with our leading British defence industry. Thales' new Maritime Autonomy Centre is another great example of the work being done by our suppliers to ensure our military remains equipped. This centre of excellence will enable industry and academia to experiment and innovate together to help counter emerging sea-based threats and ensure we remain one of the world's leading militaries."
- Defence Minister Stuart Andrew
""This world-class facility is adding enormously to Plymouth's fantastic marine community, and we are delighted that it brings with it high skilled jobs and investment. Plymouth is well on its way to becoming one of Europe's most vibrant waterfront cities, and having facilities like this is essential to our growth and progress, putting the city at the forefront of maritime technology development."
- Leader of Plymouth City Council, Councillor Tudor Evans
Photos: credit Shaun Roster for Thales USV images.