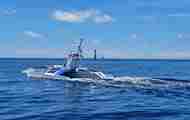 Quietly and peacefully, the Mayflower Autonomous Ship slipped her lines at her homeport at Turnchapel Wharf for the final time in the early hours this morning, and began her adventure sailing fully autonomously from Plymouth, UK, to Plymouth, Massachusetts.
Powered by solar energy and an 'AI Captain', the ship's computer performs a similar role to a human captain allowing the vessel to cross the Atlantic fully autonomously. Assimilating data from a number of sources, it constantly assesses its route, status and mission, and makes decisions about what to do next. Cameras and computer vision systems scan the horizon for hazards, and streams of meteorological data reveal potentially dangerous storms. Machine learning and automation software ensure that decisions are safe and in-line with collision regulations.
It's been a pleasure to be the ship's homeport, and witness first hand the state-of-the-art technologies onboard, and the collaboration between so many companies including ProMare, Marine AI, IBM and many more.
"Mayflower Autonomous Ship (MAS400) Project has been based at Turnchapel Wharf since the naming ceremony in September 2020. We were very generously provided with space to set up a tent for the MAS400, a container/office to shelter our team, a berth, and every assistance to make our team's work as easy as possible."
"This year, we have launched and re-launched the MAS400 several times, and moved our software team to offices at Turnchapel Wharf. Everyone being in the same location, and access to water significantly helped with team cohesion and contributed to the success of our efforts. In addition to its convenient location and the availability of services provided, professionalism of the people running this superb facility has been a vital part of our project's progress. This facility truly is the home of #marineautonomy in the #southwest UK. 

Thank you Turnchapel Wharf for all your help, support and patience with our project, team, and never-ending streams of visitors. We could not have done it without you!"
- MAS Project Team