December 2020 sees the conclusion of the 2020 sea trials programme, covering 4 weeks of testing, for our patent pending Northstar (N*) autonomous navigation system. This is a significant milestone in assuring the commercial readiness of the system and its uses within the maritime sector. It also completes Phase 3 of the MOD funded autonomy project announced in late 2018, led by tpgroup with support from Thales and other contributors.
N* has been designed to eliminate the need for manpower in optimum path planning – removing human error whilst increasing efficiency and operational agility. This is particularly beneficial for challenging or hazardous environments such as marine research, oil and gas and defence where autonomy can also help keep humans from harm's way.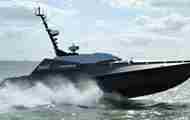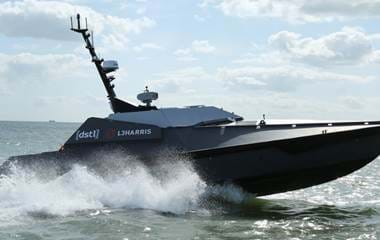 L3Harris ASV Mast-13
This important trial sees our software tested at Thales' Maritime Autonomy Centre at Turnchapel Wharf, Plymouth. The trials will see N* software operating with several interfaces including MOOS on Thales' Halycon vessel, and DDS on the L3Harris ASV Mast-13 (pictured above) – the Dstl's latest unmanned surface vehicle. The Maritime Autonomy Surface Testbed (MAST) 13 is a 41-foot long high speed system capable of fully autonomous navigation.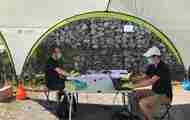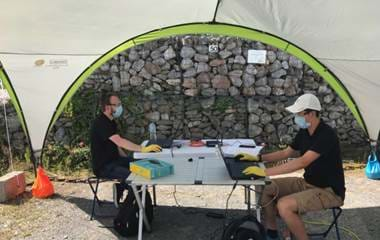 The autonomous vessels will be manoeuvred to target points in both shallow river mouth waters and deeper open sea situations. The tasks will include navigation to a number of locations, including some out of line-of-sight, whilst optimising the routes against a range of user-controlled parameters such as speed, fuel efficiency and risk of collision or detection involving designated boats as well as other free-moving vessels in the vicinity that are not part of the trial.
A key part of the final stage will be around wave research and testing the capability of the system to read the current wave conditions, using on-board sensors, and to respond using this data alongside forecasts.
This programme commenced in 2016, concluding this phase of work, maturing the technology to TRL 7, assuring its commercial readiness for autonomous vessels across many use cases. This programmes follows intensive synthetic environment testing and previous sea trials.
tpgroup's patent pending software is unique in that it constantly responds and reacts in real-time to changes in the environment and vessel to deliver optimal path planning for autonomous platforms. It is inspired by the academic technique of ant colony optimisation. This innovative software generates optimal routes against multiple dynamic user defined constraints of specific platform characteristics including performance, fuel efficiency, time and cost. It also factors in the ever changing environmental elements, from forecasts or those detected by on-board instruments, combined with input from mapping – to avoid any moving or stationary, mapped or unmapped obstacles. Platform and system agnostic, it can be used and integrated with any autonomous platform.
Autonomy within the maritime space is part of tpgroup's wider technology & innovation investment programme that will build this capability for land, air and sub-sea uses, including the potential for multiple unmanned platforms operating together for combined effect.